Pregnant Minnie Driver Expects Great Things from The Riches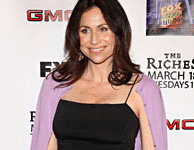 All eyes were on mom-to-be Minnie Driver at the Season 2 premiere of the FX drama The Riches, held Sunday night at the Pacific Design Center in West Hollywood. Dressed in a form-fitting navy Calvin Klein dress that showed off her small baby bump, Driver was all smiles as she talked baby with TV Guide. The actress told us that she has no plans to find out the sex of the child until she gives birth, and that she's dealing with both exhaustion and morning sickness — but still couldn't be happier. "I'm sick as a dog, absolutely horrific, but so happy and... so into it. I don't care about getting fat, I love it. It's fun," she said.
Driver's costars had nothing but good wishes for the actress, and all wholeheartedly agreed that she would make a terrific mother. Aidan Mitchell, who plays son Sam on the show, said of Driver, "She's going to be an amazing mom." Margo Martindale, who plays Nina, told us, "She'll be a perfect mother to a girl. Or to a boy. She's just such a girly girl, and she loves women. She's very strong and caring and nurturing."
As for what viewers can expect in the upcoming second season, all of the cast members hinted that the show will be even darker than Season 1. "Wayne's greed consumes him, and Dahlia [desires] to kind of find out who she is and somehow absolve herself of her criminal past — but obviously it's completely impossible to do that and get away with it," said Driver. "They are getting further and further away from each other as they lie to each other about what they're doing and how they're going about it."
With seven episodes making up the second season, there will be a lot of twists and turns packed into a short time. Luckily for Driver (who is due at the end of August), her pregnancy won't affect the show if it comes back for a third season. In the meantime, she's focusing on enjoying her pregnancy, and everything that comes with it. "A lot of pickles and olives. All the salty stuff," said Driver about her cravings. "But I have the sweetest tooth in the world. I could eat sweets and cakes and pastries forever. But I can barely get them down now."
Bridget Moynahan and Rumer Willis, escorted by Dirt cast member Ryan Eggold, also attended the screening.
The Riches' Season 2 premieres Tuesday, March 18, at 10 pm/ET. — Clare Kleinedler