Those on the Atkins diet, read no further. This is for the carb-loving folk who liken finding the perfect baguette to meeting the love of his or her life. Is there anything that evokes as much happiness as a warm, crusty, slightly chewy and somewhat airy loaf of golden French bread? Baguettes, much like teen heartthrobs and political causes, can inspire complete and utter devotion by the people who love them. So here's a look at L.A.'s 10 best baguettes, in no particular order, where you can indulge your cravings.
1.
La Brea Bakery
: Though a bit chewier and more dense than the standard French baguette, a number of Angelenos swear by this beloved baton of baked breadiness. The slightly moist interior is full of beautiful, large craters, perfect for cradling bread-friendly foodstuffs such as butter, jam or paté. Mixed and partially shaped by machines, each baguette is then lengthened and tapered at the ends by hand. There are two varieties: the thinner French baguette and the larger French bread baguette (which is a bit softer than the latter), and both garner the same insane dedication.
624 North La Brea Ave; Los Angeles; (323) 939-6813
2.
Breadbar
: The baguettes here are so good, you might make like Jerry Seinfeld and wrangle the last one out of the hands of a little old lady. Made with no enhancers or additives in the true artisanal style - no par-baking, no freezing - the Breadbar baguette is carefully hand manipulated, fermented, stretched, rested and scarred before being baked under the watchful eye of its baker (no timer necessary). "Our definition of a good baguette is that the crust is always crispy, the color golden brown with a nice, even shape and lots of large, emphasized cavities in the off-white colored dough," says Mohsen Beydoun, COO of Breadbar's Wholesale division.
8718 West 3rd St; Los Angeles; (310) 205-0124
10250 Santa Monica Blvd; Los Angeles; (310) 277-3770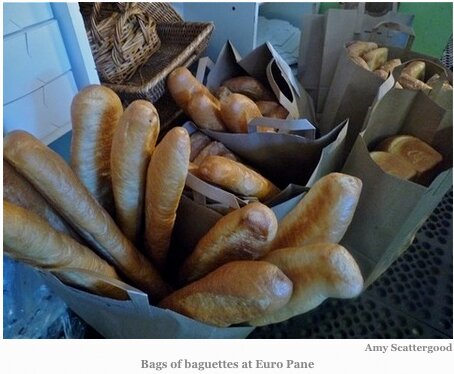 3.
Euro Pane
: Sumi Chang's cozy little café in a non-descript mini-mall in Pasadena is well known for its authentic croissants, pastries and cookies, but the first thing to disappear off its shelves is the delicately crusty and light baguette. With a slightly softer texture than the baguettes made famous by Chang's mentor, La Brea's Nancy Silverton, the baguette is a popular bread choice for the café's irresistable sandwiches like pressed ham and cheese and chicken salad. But if you want a baguette to go, be prepared to wake up early. Even on a weekday, they're gone by around 10 a.m.
950 East Colorado Blvd; Pasadena; (626) 577-1828
4.
Le Pain Du Jour: The fantasy
: A lovely park, a view of the Eiffel Tower, a picnic blanket, a bottle of red wine and you, whispering sweet nothings to your crusty, still-warm baguette just before devouring it with complete animal abandon and a slab of French butter. The baguette from Le Pain Du Jour is the stuff that twisted, Francophile dreams like these are made of, mon amour. Like many small bakeries in Paris, Le Pain Du Jour closes its doors as soon as the bread runs out, which even on a slow day is around 2 p.m.
828 Pico Blvd; Santa Monica; (310) 399-4870
5.
Mr. Baguette
: Trying to get someone at Mr. Baguette to reveal even a hint of what makes its namesake product so flawless is slightly more difficult than trying to convince Paula Deen that butter is not a major food group. No wonder, considering the cult-like following the bread and sandwiches coming out of this humble little local chain enjoy. Somehow, these baguettes are hearty enough to hold the contents of Mr. Baguette's famed "Special" banh mi (mayo, paté, ham, pork meat loaf, head cheese and veg - ) yet retain a fluffy, easy-to-squish-but-won't-fall-apart quality. And perhaps most importantly the crust, while crisp, will not tear up the roof of your mouth - a major requirement for any great sandwich bread.
400 S. Atlantic Blvd #288; Monterey Park; (626) 282-9966
9661 E. Garvey Ave #101; South El Monte; (626) 575-8623
8702 E. Valley Blvd; Rosemead; (626) 288-8733
6.
Normandie Bistro & Bakery
: This is a large-operation bakery (Normandie sells its bread to numerous restaurants, hotels and grocery stores) that has managed to create and preserve the authenticity of a true Parisian baguette. The bread is ultra light, with a thin but remarkably crunchy crust that leaves beautiful, golden crumbs all over the breadbasket. It's so wonderfully airy that a surprisingly large piece can easily be stuffed into the human mouth, which is a good thing as many whose lips have touched it have experienced a momentary loss of self control. In a cruel attempt to keep customers from regaining any sense of dignity, the bakery offers a sandwich made with its baguette and signature paté.
3022 Cochran Ave; Los Angeles; (323) 939-5528
7.
La Boulangerie
: Artisan baker Thierry Warnier's super crusty magic wand of carbs plays hard to get, which naturally leaves its admirers wanting more. If you're not at the farmer's markets in Larchmont Village on Sundays, West Hollywood on Mondays, downtown on Thursdays and Fridays and in Glendale or Calabasas on Saturdays, well, no baguettes for you. Those lucky enough to have had encounters with Warnier's authentic, wood-oven baked bread know that the key to a lasting relationship with this special goodness is to show up early with cash in hand. Farmer's markets: Larchmont Village (Sun.), West Hollywood (Mon.), downtown at 1st and Main (Thurs.), downtown Bank of America (Fri.), Echo Park (Fri.), Americana at Brand in Glendale (Sat.), Calabasas (Sat.)
8.
Amandine Café
: If you've ever had the pleasure of eating at a Parisian-style cafe in Japan, you know that the Japanese understand the je ne sais quoi of French bread making. Head baker Naoko Nishino, who was trained in her native Japan, starts mixing dough in the pre-dawn hours of the morning so that her baguettes can slide into the stone oven at 9 a.m. Her meticulously refined skills are apparent in the ultra brittle crust, which shatters ever so gracefully with each bite, exposing a moist, supple interior and a knee-weakening aroma. It's oiishi and délicieux at once.
12225 Wilshire Blvd; Los Angeles; (310) 979-3211
9.
The Baker Bakery and Cafe
: This cozy little café bakery in the valley is cranking out naturally leavened, hand-rolled baguettes made with basic ingredients like fresh yeast and organic, unbleached flour. Owner Sari Afriat explains the draw to her traditionally-made product: "Because we hand roll each one, our baguettes are not perfect. Every single one looks a bit different. But the rustic look is what makes people just want to grab and break off a hunk to share with friends." There's also the feel-good factor. Everything leftover at the end of the day (which typically does not include the French baguette) is given to Skid Row shelters.
21600 Ventura Blvd; Woodland Hills; (818) 340-1987
10.
Bay Cities Italian Deli
: For those who prefer a baguette with more heft, Bay Cities Deli provides a dense, faintly-sour version with a toothsome, crunchy crust. Some may argue that its larger dimension doesn't allow for its inclusion in the "baguette" category. But there are more lovers than fighters of this here bread, as evidenced by customers who order one of Bay Cities' gargantuan submarine sandwiches with a side of baguette, and sit in their cars on Lincoln Boulevard happily devouring both before heading back to work.
1517 Lincoln Blvd; Santa Monica; (310) 395-8279